The membership organisation responsible for training, supporting and representing psychiatrists in Australia and New Zealand worked with Zeroseven to build an innovative website that provides a tailored experience for users with specific roles and membership levels. 

The doctor is in 
The Royal Australian and New Zealand College of Psychiatrists (RANZCP), accredited by the Australian Medical Council (AMC) and the Medical Council of New Zealand (MCNX), is responsible for developing and promoting clinical standards in the practice of psychiatry in Australia and New Zealand. 
The RANZCP also conducts training and exams; administers the Continuing Professional Development (CDP) program for qualified psychiatrists; holds industry conferences and meetings; publishes clinical practice guidelines, policy documents, position statements, and two medical journals; and represents the interests of both psychiatrists and people living with mental illness. 
Having already engaged Zeroseven to build Your Health in Mind, the RANZCP's public-facing website with expert mental health information for everyone, the organisation once again worked with Zeroseven to rebuild ranzcp.org, its website for psychiatrists.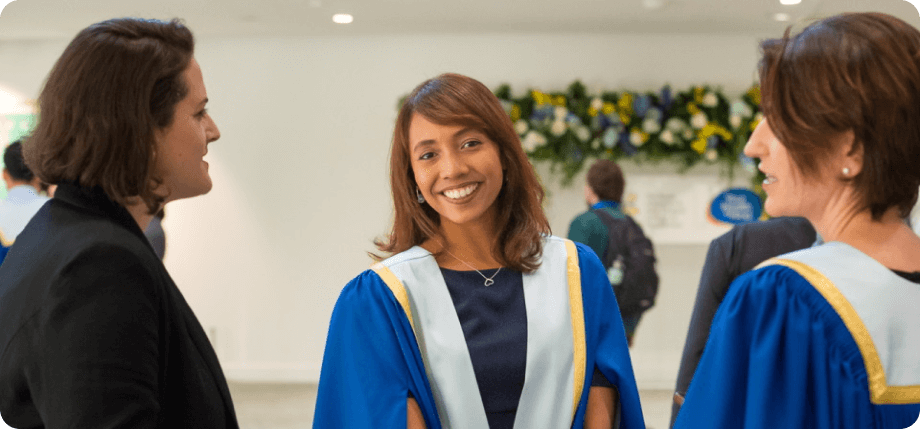 The RANZCP sought to replace its existing website with a modern, secure solution, housing both members-only content and publicly accessible content for people interested in becoming psychiatrists. 
To achieve this, the site was upgraded to the latest version of the Kentico digital experience platform, running on the forward-facing ASP.NET Core MVC framework. 
But Zeroseven didn't just upgrade the site's underlying technology – they also took this opportunity to enhance the user experience, develop a secure custom login, and take advantage of Kentico's robust personalisation capabilities to create a website that truly caters to the needs of RANZCP members. 
What's the diagnosis? 
Zeroseven's work on the site began with six months of extensive planning and prototyping, to ensure the product that was ultimately delivered to the RANZCP would be the right solution for them. 

Collaborating with a content strategist engaged by the RANZCP, Zeroseven took part in interviews with the public, the academic community, practising psychiatrists and RANZCP members to define a clear target state for the website. 
The developed wireframes and high-fidelity prototypes were then tested thoroughly with these user groups, and refined based on their feedback. 
This iterative, user-led design process was crucial to developing the rebuilt site's complex information architecture. It's what enabled Zeroseven to organise the RANZCP's prodigious content library into a logical hierarchy, with a simple and straightforward navigation bar and deep drop-down menus making thousands of pages easily discoverable for a wide range of user groups. 

The content that was determined to be the most popular and sought-after is visible from the drop-down menus, with 'see all' links for users looking to drill down into more specific, granular information, while the right-hand section of the drop-down menus has been reserved for helpful external resources and links. 
Search functionality has also been greatly improved. Detailed tags have been added to the RANZCP's extensive library of clinical guidelines and publications so they can be filtered by topic, date or publication type, making them easily accessible for RANZCP members in a hurry. 
Member care
As a membership organisation offering psychiatrists access to resources, training and events that are not available to the public, it was imperative for the RANZCP to provide a convenient and secure login process for its members.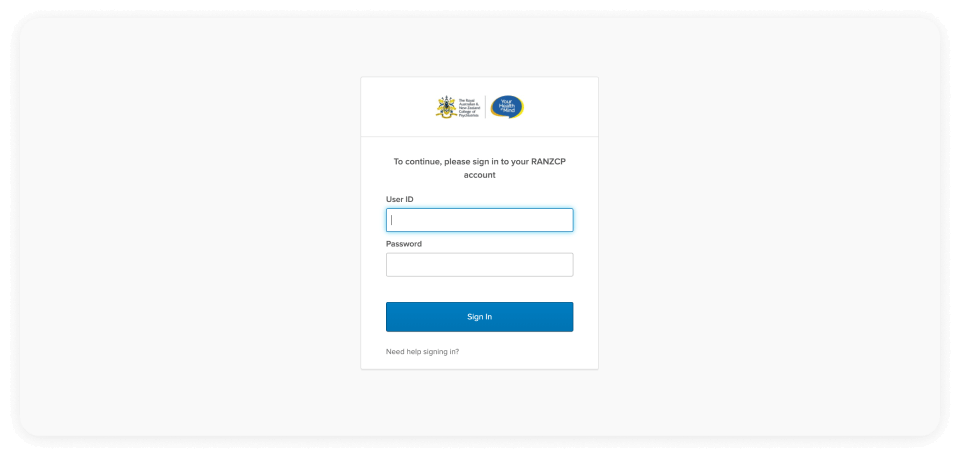 Zeroseven developed a custom login process for the RANZCP powered by Okta, an enterprise-grade identity management service. 
This federated identity solution integrates with sources and applications trusted by the RANZCP to verify and re-use credentials that members have already supplied elsewhere, ensuring quick access to the site for members without compromising security. 
Using these credentials, and leveraging Kentico's powerful personalisation capabilities, these members then enjoy a level of access to the RANZCP site that's specific to their type of membership. 
For instance, the content they can access may be conditional on whether they're a practising psychiatrist or a student, or whether they have a fellowship, affiliate membership, or associate membership. The content they're shown can also be customised depending on which branch they're a member of, and which committees they're a part of.  
This means members can be shown exclusive news, publications and reminders about key dates that won't display to non-members, and a member of the Queensland branch might see upcoming events in their area on the homepage that a member of the Western Australia branch won't see.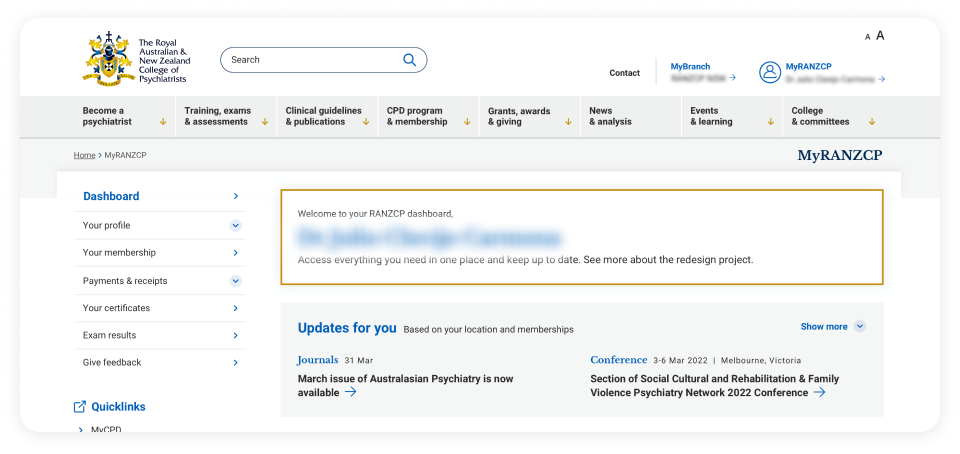 Because the members' accounts are connected to their CPD programs through the federated login process, their personalised dashboard can display information about their program, and reminders about key dates. 
Different versions of the site also display depending on whether a user is from Australia or New Zealand. This is a particularly useful feature for the RANZCP, because of its commitment to improving mental health care for Aboriginal and Torres Strait Islander peoples in Australia, and Māori people in New Zealand. 
Turn of events
A key responsibility of the RANZCP is to host events for its members. These can be one-off events, conferences and webinars, or a series of connected events and courses, which is why the rebuilt site makes it possible to tie individual event pages to overarching event series.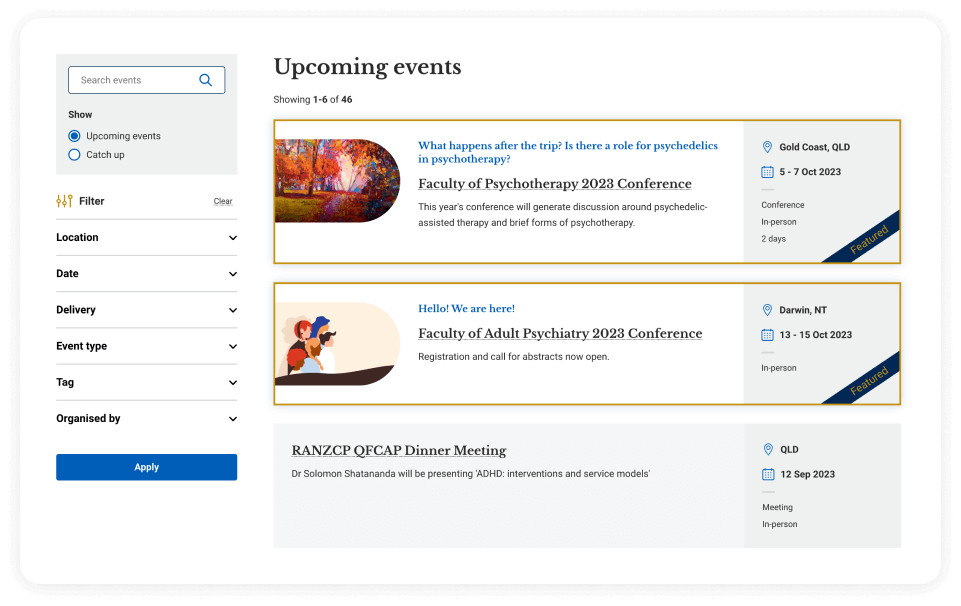 The rebuilt site's conditional content capabilities also means that RANZCP editors can choose whether an event page is accessible by everybody, or just by select member types. 
Events are assigned a 'state' – either upcoming, interim, or past – depending on the event date. When the date has passed, the same event page can shift from the 'Upcoming' section to the 'Catch up & learning' section. 
Videos and recaps can be added to these event pages – an important feature for RANZCP's members, who are often too busy seeing patients and running clinics to attend events in person. 
Physician, heal thyself
Before the site rebuild, the RANZCP's people were required to either call a developer or engage in some light coding of their own to add new pages and content. This was a source of ongoing frustration for their team. 
Now, they can create beautiful pages on their own without needing to possess any technical skills. Leveraging Kentico's modular Page Builder functionality, they can choose from a large range of simple drag-and-drop widgets to create complex, content-rich pages with minimal effort. 
These widgets have been developed by Zeroseven, based on likely use cases identified during the planning and prototyping process. The widgets give RANZCP's editors the ability to create all of the content they could conceivably need, without overloading them with unnecessary options.
In keeping with the highly collaborative nature of this project, we provided the RANZCP team with training on how to use the drag-and-drop widgets to lay out pages and create content, and continued to refine the widgets based on their feedback. 
The site also takes advantage of Kentico's advanced workflows, which enable administrators to assign specific users and roles with different permissions for each step of the workflow. This means that, while a user may have the ability to create a piece of content, that content may need to be approved by somebody with a higher level of authority before it can be published. 
A detailed audit trail is also kept of every step of the process – a particularly useful feature when creating content for such a specialised and highly regulated field.
Design thinking
The look and feel of the rebuilt site preserves the heritage and scholarly authority of the RANZCP, while still applying a contemporary touch.  
This was achieved in a number of ways – for instance, by pairing a more traditional serif font for headings and subheadings with a modern sans font for the rest of the text, and through a subtle use of the old gold colour from the organisation's crest as a highlight throughout the site.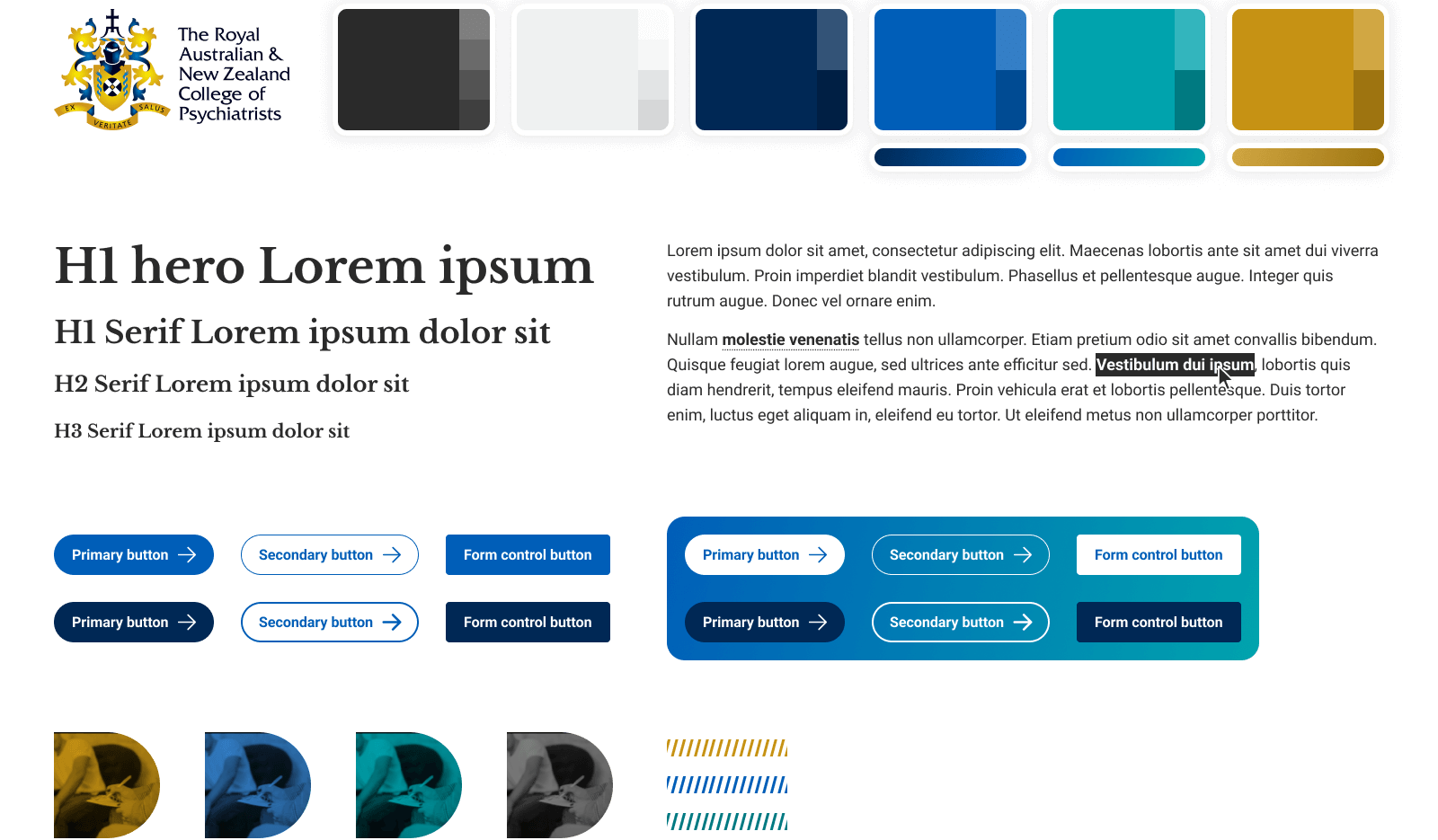 In an effort to avoid the overuse of stock 'mental health' imagery, the design of the site instead makes use of gradients, colours and shapes for embellishment, and to lighten text-heavy pages. Where images are used, a uniform aspect ratio has been maintained throughout the site to simplify the process of uploading images for RANZCP editors.
For members of the public who inadvertently arrive at this site while looking for mental health advice and information, call-outs for the public-facing 'Your Health in Mind' site have been included. These have been designed to reflect the look of that site, from the logo to the typeface, in order to provide a consistent experience for the user when they're taken to that site. 

The site also goes beyond regulatory requirements for accessibility in both its code and its visual design. It complies with Web Content Accessibility Guidelines (WCAG) to ensure screen reading programs can successfully navigate its content, improving the experience for users with disabilities. 
Peace of mind
The upgraded site is built on a secure and serverless deployment architecture, which leverages the digital experience platform's native support for Microsoft Azure. 
This serverless solution completely separates the website from where RANZCP's membership database is stored, adding an extra layer of security. It also means that users of the site in regional Australia and New Zealand enjoy the same level of performance as those who are closer to RANZCP's office, which wasn't always the case when the site was deployed on-premises. 
The site also makes use of Microsoft Azure Active Directory Seamless single sign-on (Azure AD Seamless SSO), which means that RANZCP team members are automatically signed in when they're on corporate devices connected to their corporate network. 
Even if they're not on a corporate device, they can use their pre-existing Microsoft 365 log-ins to access the site, eliminating the need for separate usernames and passwords. 
Ultimately, it all adds up to a site that delivers a superior experience for the organisation's staff and its members, as they work to deliver better mental health outcomes for our communities.