Working with St Vincent's Health Australia, the nation's largest not-for-profit health and aged care services provider, Zeroseven built two brand-new websites that seamlessly incorporated their existing branding and messaging while delivering a superior experience for users across the St Vincent's suite.
Compassionate health and aged care
St Vincent's has been providing health care in Australia for 165 years, ever since its first hospital was established in Sydney in 1857. Now one of Australia's oldest and most prominent health and aged care organisations, St Vincent's Health Australia offers services in Queensland, New South Wales and Victoria, including public and private hospitals and aged care facilities. 
St Vincent's recently began a refresh of their digital presence by building a new website for their network of 10 private hospitals. Zeroseven was engaged to build two new sites that reflected their new branding and messaging, and to move their existing sites to the highly efficient and user-friendly Kentico CMS platform.

On brand 
It was crucial that the two new sites built by Zeroseven – a corporate site for St Vincent's Health Australia, and a site for St Vincent's Care, encompassing their Aged Care, Home Care and Retirement Living services – were consistent in their branding and messaging with the existing St Vincent's Private Hospitals site. 
To ensure this uniform look and feel, Zeroseven's design team were guided by the brand's style guide for the new sites' formatting, while incorporating site-specific personality where appropriate.
While each site has a different function, it was important that any unique features they required, such as St Vincent's Care locations search tool, appeared to be of a piece with the overarching suite – that they weren't simply added as an afterthought, but instead maintained the integrity of the brand identity.
User-focused 
While consistency was crucial, it was also vital that each site service its intended audience – after all, St Vincent's is committed to understanding and respecting the individual needs of each person they provide care to. 
Extensive planning processes were undertaken, during which the user journeys for each site were carefully scrutinised. This included in-depth discussions with the St Vincent's team about the functionality their users would require and the ways they were likely to use the sites.
For instance, knowing that users of St Vincent's Care were likely to be time-poor and could be in need of urgent care solutions, it was decided that a relatively simple, stripped-back and particularly mobile-friendly visual approach would be most appropriate for this site.

A unique location finder service was developed for the St Vincent's Care site. This functionality makes it easy for users to find the home care, residential aged care, retirement living, respite care and dementia care facilities that are right for them. 
Users simply enter their postcode and the service they're looking for, and are then presented with the nearby options. Each individual facility's listing includes a comprehensive rundown of its key features, as well as photos, staff profiles, activity calendars and maps that are unique to that location.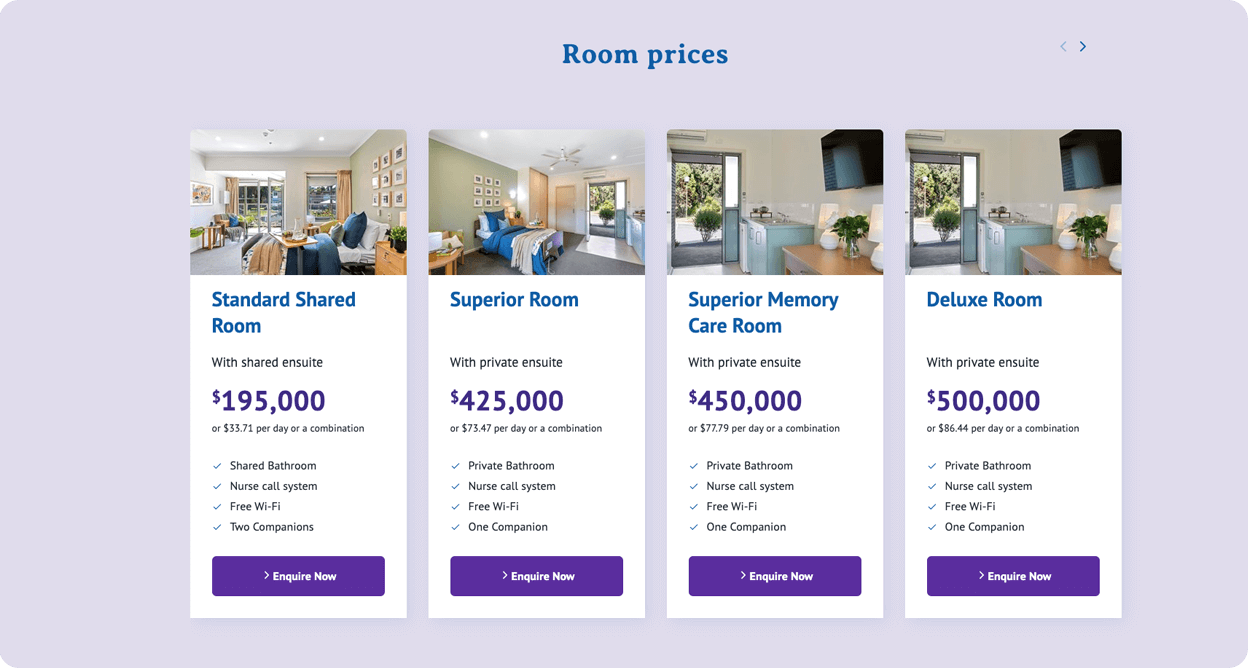 Users are presented with photos and accurate, up-to-date pricing and details for each type of room available at each location – so users and their families have access to all the information they need to make the right decision about their care. 

A superior CMS 
The in-depth and user-friendly location finder functionality is made possible by the Kentico CMS that the sites are built on. 
Zeroseven built St Vincent's Health Australia on Kentico Xperience 13, and St Vincent's Care Services on Kentico 12. Zeroseven also rebuilt the St Vincent's Private Hospital site and added it to the same Kentico instance as St Vincent's Care, while following the same design style as the existing site and ensuring a similar CMS editing experience was provided through Kentico. 
Running on Kentico allows for significantly faster load times across the suite, and feature-rich functionality that allows St Vincent's and Zeroseven to customise every detail of each site from the ground up. 
To maximise efficiency, global settings were deployed across the suite wherever possible. This meant that most settings only had to be configured once, helping to cut down on development time. 
Kentico's mobile development features also enabled each site to be optimised for viewing on mobile devices, so users can have an equally satisfying experience no matter how they choose to engage with the suite. 
Now that the sites are live, St Vincent's can continue to add content to them with ease. Kentico's acclaimed Page Builder gives St Vincent's the flexibility to add content without requiring any technical expertise on their behalf – they can simply use drag-and-drop widgets to populate pages as required. 
Kentico's multi-site management also enables St Vincent's staff to switch between sites at the click of a button, without requiring multiple log-ins. 
All of these features make for a better, simpler experience for the St Vincent's team – so they can continue to concentrate their efforts on providing outstanding care for their patients and residents.