GIVIT is a not-for-profit organisation that channels generosity where it is needed by connecting charitable donors with support organisations helping vulnerable people and communities throughout Australia.
The brief
GIVIT works with more than 3,400 support organisations to ensure donations get to the people who need them most. This saves valuable resources by removing the need for charities and services to sort through, store and dispose of well-meaning donations that are not needed, or not needed right now. Landfill is also reduced by diverting tonnes of reusable items to new homes. 
Trusted support organisations tell GIVIT what people they're helping need right now – whether it's due to disaster, drought, domestic and family violence, homelessness, disability, mental health or other circumstances. Those needs are listed on GIVIT's website, and donors can then donate those items directly or donate money to help purchase them.

If a donor has an item they would like to give, but that item is not currently being sought after by a support organisation, they can 'offer' the item to GIVIT. The item then goes into GIVIT's unique online warehouse.
Support organisations are able to browse the online warehouse, and when they find an item they need, they can 'reserve' it. GIVIT then connects the charity with the donor, essentially serving as a charity matchmaker. 
100 percent of donated funds received by GIVIT are used to purchase essential items for people in need and, wherever possible, GIVIT buys from local businesses.
The organisation's operational costs are covered by government contracts and corporate partners.
The challenge
Zeroseven was tasked with expanding and enhancing the functionality of the GIVIT web application, giving more agency to GIVIT administrators, donors and support organisations. 
GIVIT's online warehouse, which has been heavily dependent on spreadsheets that needed to be filled out manually, was to be automated and administration portals were to be developed in order to streamline the donation process and make it even easier for charities to access available goods and services in their area.

A secure & scalable system
Zeroseven utilised Umbraco, an open-source system for managing and publishing content, to address the content management requirements of the GIVIT website. 
The solution has been architected so all user-based data will either be stored in a database or a storage account. This allows the data to not be tied directly to the application and it can be backed up independently while also ensuring we can easily delete and redeploy the application to different locations without affecting the user data.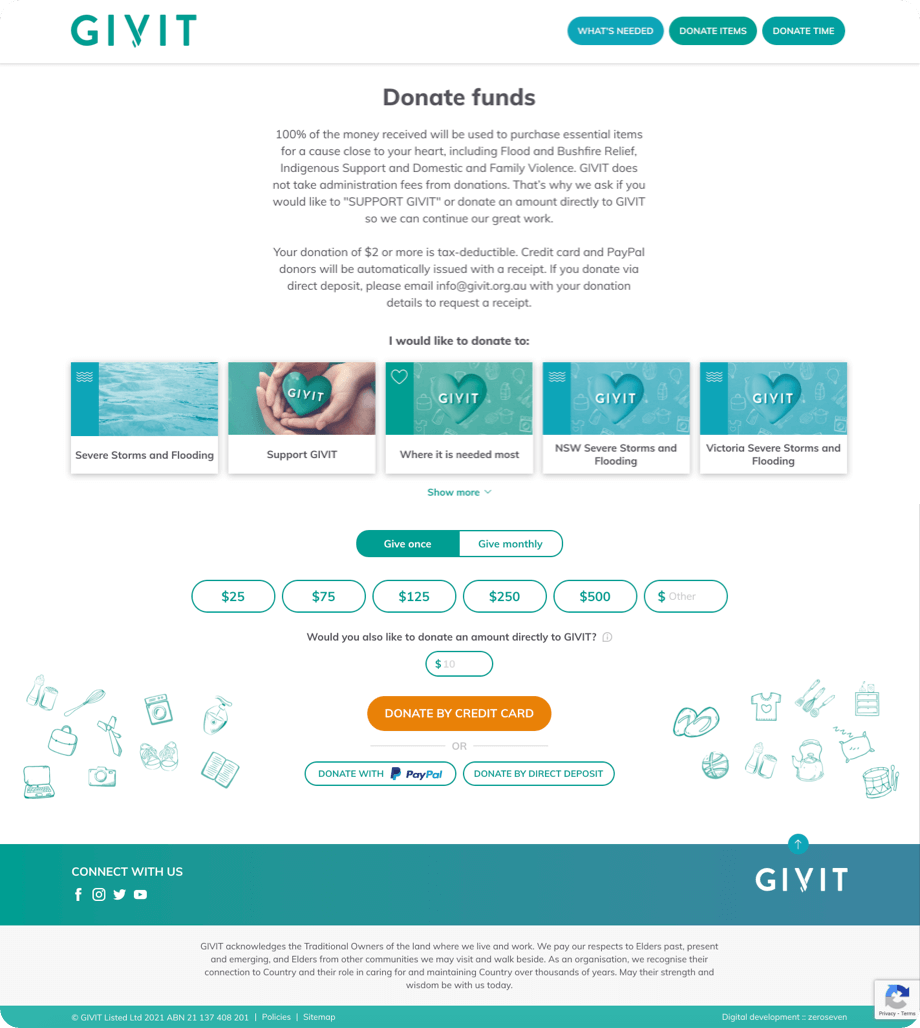 Robust and scalable hosting
Microsoft Azure services were selected to meet the load and security requirements that are required by GIVIT. Azure provides the option of auto-scaling across a number of services to handle an increase, and subsequent decrease, in load to ensure services are able to remain performant during peak usage times such as a national disaster or promotional campaign. In these cases the load would be shared across the additional instances allowing the application to remain responsive.
Using auto-scaling also means GIVIT only needs to pay for the additional services while they are required as they automatically shut off after a period of time when the resource load has reduced.

Seamless donation management
Donating into the online warehouse has been automated, vastly reducing the number of hours needed for GIVIT to manually process donation offers. Donors accessing the publicly viewable GIVIT site can now simply provide information about the item they are able to donate; whether or not they can deliver the item or if it will need to be picked up by the charity that reserves it; and how long they are able to hold on to the item. 
The new system also offers donors the ability to link their donation to a preferred appeal – whether that be for bushfire, flood or drought recovery, the COVID-19 pandemic or any other appeal GIVIT is involved with. 
Advanced search filters
Additionally, the new system provides in-depth search filters to better show available donations to support organisations, and to make it possible for donors to narrow their search for people in need to their surrounding area, up to a 100km radius.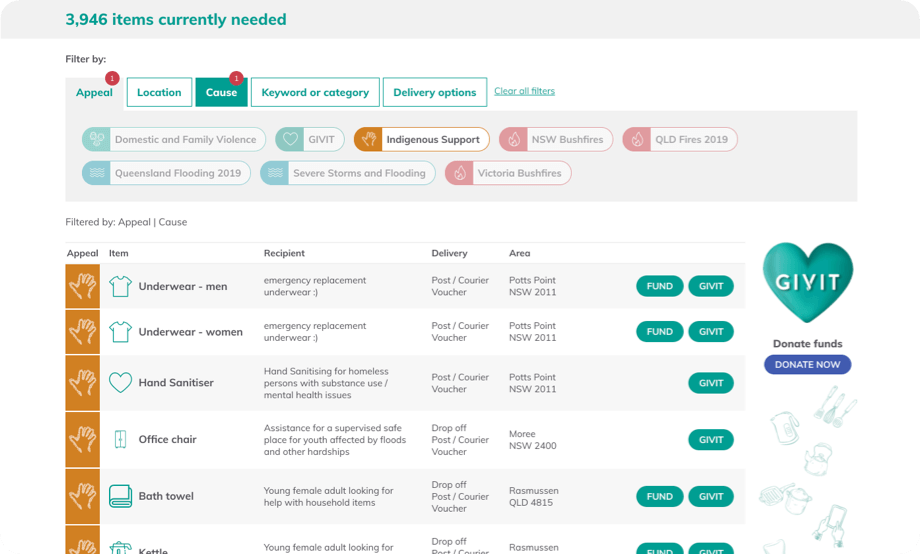 Volunteer services and time
Donors can also now offer to provide a service or volunteer their time, in lieu of donating an item. Selecting the 'service or volunteer' option when making an offer to the online warehouse will change the forms the donor needs to fill – they won't need to supply a photo, for instance, which they would if they were donating an item.
Administrators and support organistions
GIVIT team members can now be given access to the site as a GIVIT administrator, within which there are roles that control access and permissions. GIVIT administrators have access to the entire site and are able to reserve items in the online warehouse on behalf of support organisations. 
Additionally, support organisations can add their team members as users, so that they can access their organisation portal. Through this portal, they can access a stripped-back version of what GIVIT administrators are able to access, making it easy for them to track their requests for the items they need, and see a list of the items they have reserved through the online warehouse.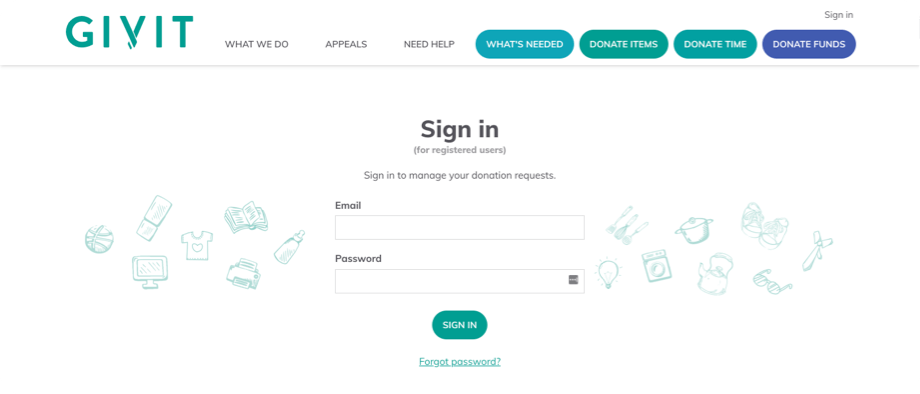 Single sign in
User profiles are common across all areas of GIVIT, so once authenticated through a single sign-in, users can access different areas of the web application based on the authorisation they have been given. 
As of June 2021, GIVIT has facilitated millions of donations
4,023

Organisations connected

53,698

Items needed