Unlocking energy efficiency and knowledge for the Queensland manufacturing sector.
The Australian Industry Group worked with us to create an interactive and engaging website that doesn't just tell Queensland manufacturers how they can improve their energy efficiency and reduce their costs – it shows them, with real and relevant case studies and accurate projections that are specific to their business.

The client 
The Australian Industry Group (Ai Group) is a peak national employer organisation that has been acting on behalf of businesses across Australia for nearly 150 years. Together with their partner organisations, they represent the interests of more than 60,000 businesses employing more than 1 million staff, across traditional, innovative and emerging industry sectors. 
For this project, Ai Group partnered with ARENA, the Australian Renewable Energy Agency. ARENA's purpose is to improve the competitiveness of renewable energy technologies and ensure they benefit Australian consumers and businesses. 
Ai Group also partnered with the Queensland Government's Department of Regional Development, Manufacturing and Water, which strives to generate economic growth and jobs through competitive regional economies and enable an innovative manufacturing sector.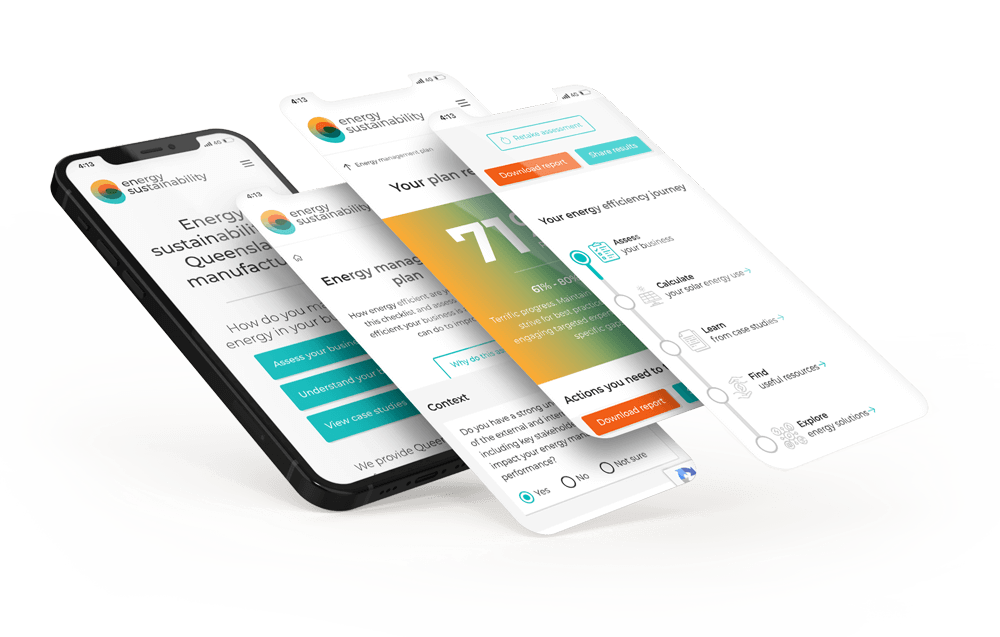 The objective
The manufacturing sector is a powerhouse of Queensland's economy. But for it to remain that way as the energy system evolves and new technologies emerge, manufacturers will need support to ensure they're operating as efficiently and sustainably as possible.  
That's why we were tasked with building an energy literacy website to promote energy sustainability for Queensland manufacturers. 
The site was to share data, analysis and insights about energy use for business, and demonstrate the benefits of integrating energy productivity improvements. By visiting the site, manufacturers would be able to explore the most effective technologies and solutions to reduce their energy costs. 
Of course, there's no shortage of literature on renewable energy out there – but this site would bring all of the relevant knowledge for manufacturers together in one place, and enable them to compare their progress with industry benchmarks. 
Instead of overwhelming individuals with information overload, it would guide and engage business owners, providing practical advice and helping them to navigate a complex market with ease. 
The solution 
Another facet of the website was guiding Queensland manufacturers through their energy efficiency journey which consisted of a number of parts. 

Interactive Energy Management Plan
The first step on their journey is an interactive Energy Management Plan, which asks them to complete a questionnaire that assesses how energy efficient their business is. Depending on their answers, they'll receive tailored advice with opportunities for improvement.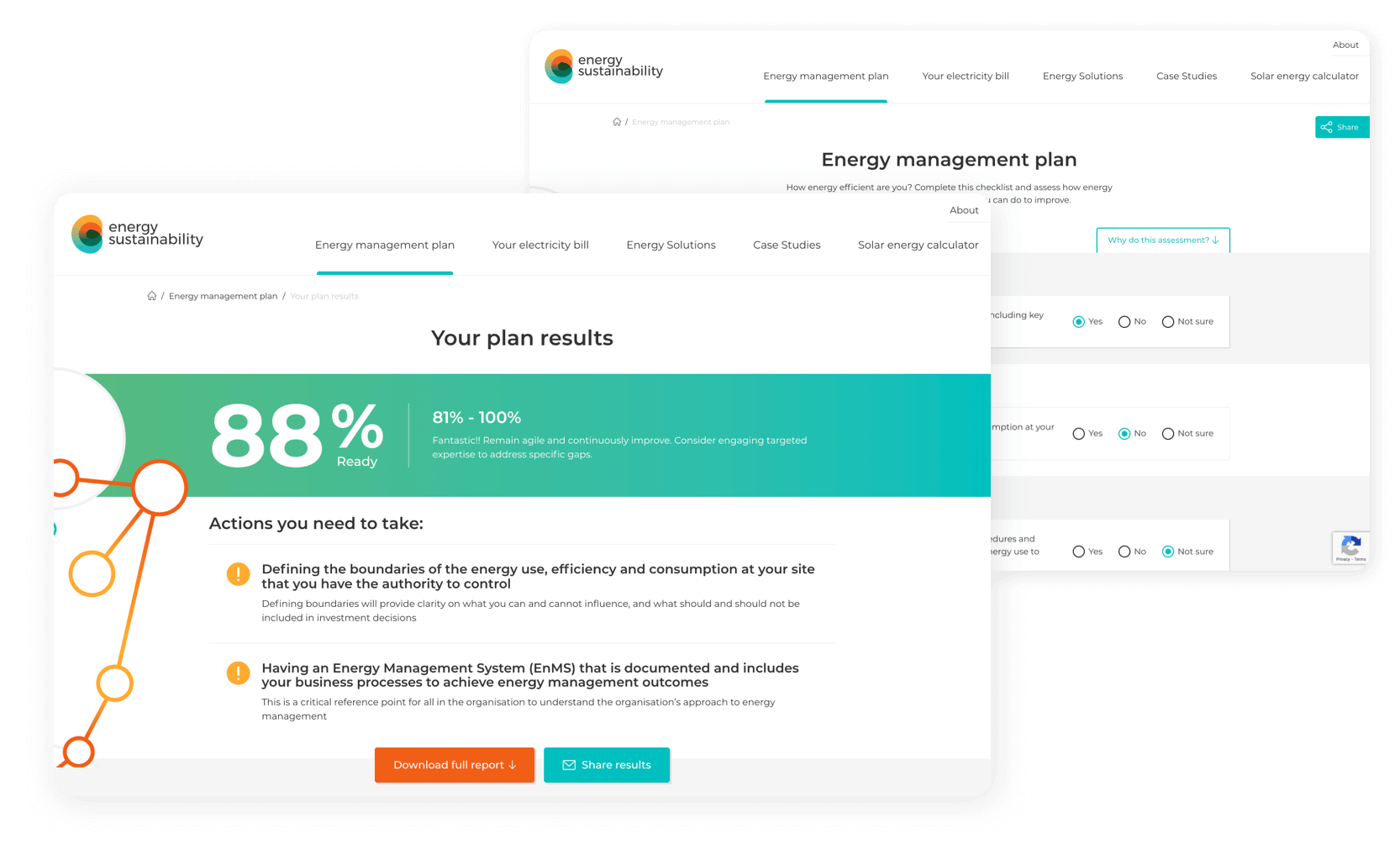 Solar Energy Calculator
They can then use our Solar Energy Calculator to determine the 
size of their required system
how long it will take for their solar installation to pay for itself
how much money they can ultimately save by making the switch to solar. 
Drawing on data provided by ARENA, the Calculator takes into account everything from the specific sector the manufacturer is in, to the average yearly sunlight in their location, to provide instant results that eliminate ambiguity and provide a clear and actionable path to sustainability. 

Case studies
Manufacturers can browse a library of in-depth case studies, which can be filtered by location, sector or focus area (i.e. Energy, Refrigeration, Solar, Compressed Air etc.) 
The case studies have been white labelled, but provide real-world examples of improvements that have been identified to help Queensland manufacturers drive efficiencies and cost savings, including detailed breakdowns of how the recommended technology works and just how much money they can expect to save.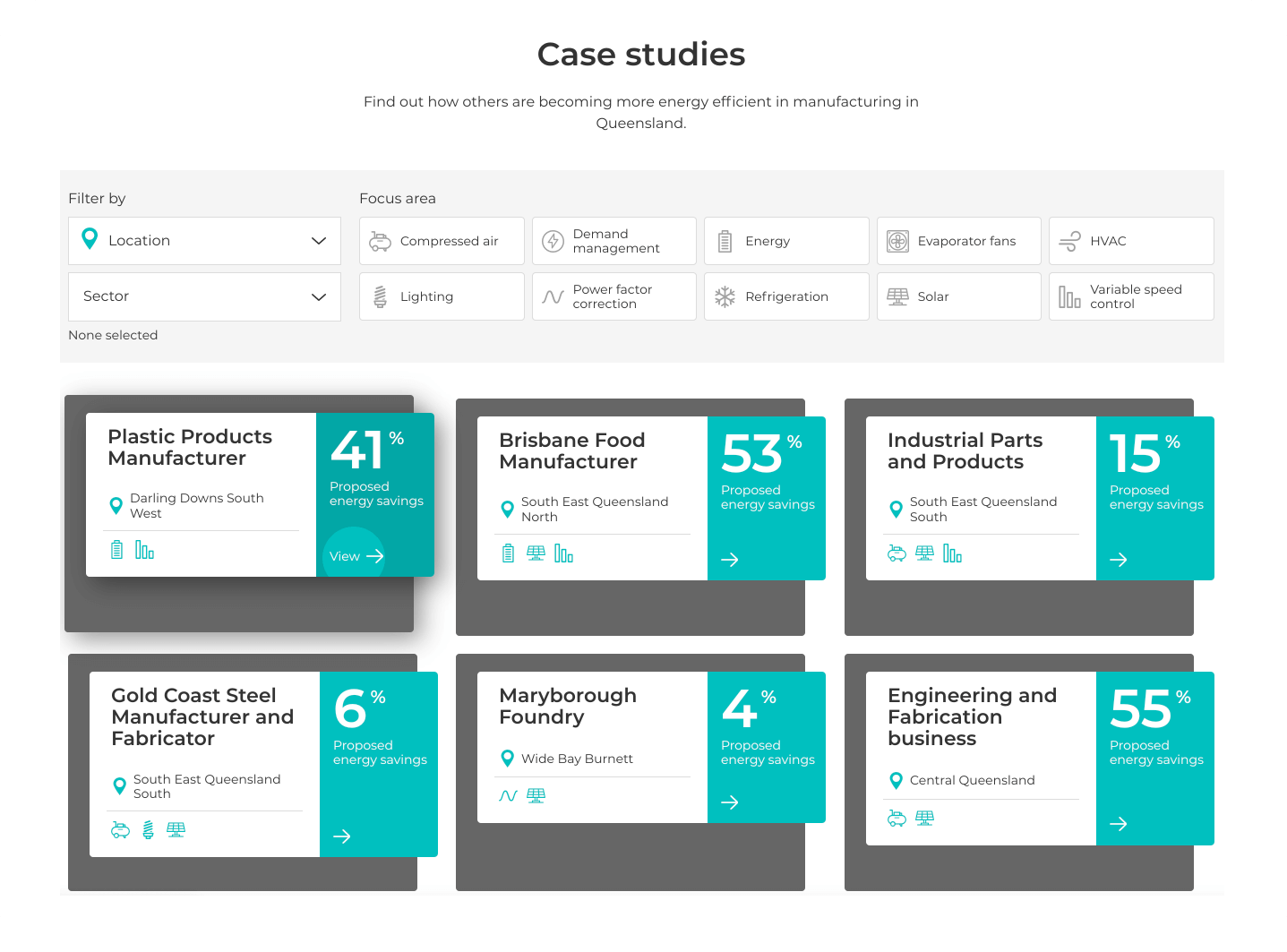 Manufacturers can then investigate these solutions further with a collection of energy efficiency guides and useful resources, as well as information on the range of grants funding sources that are available to them.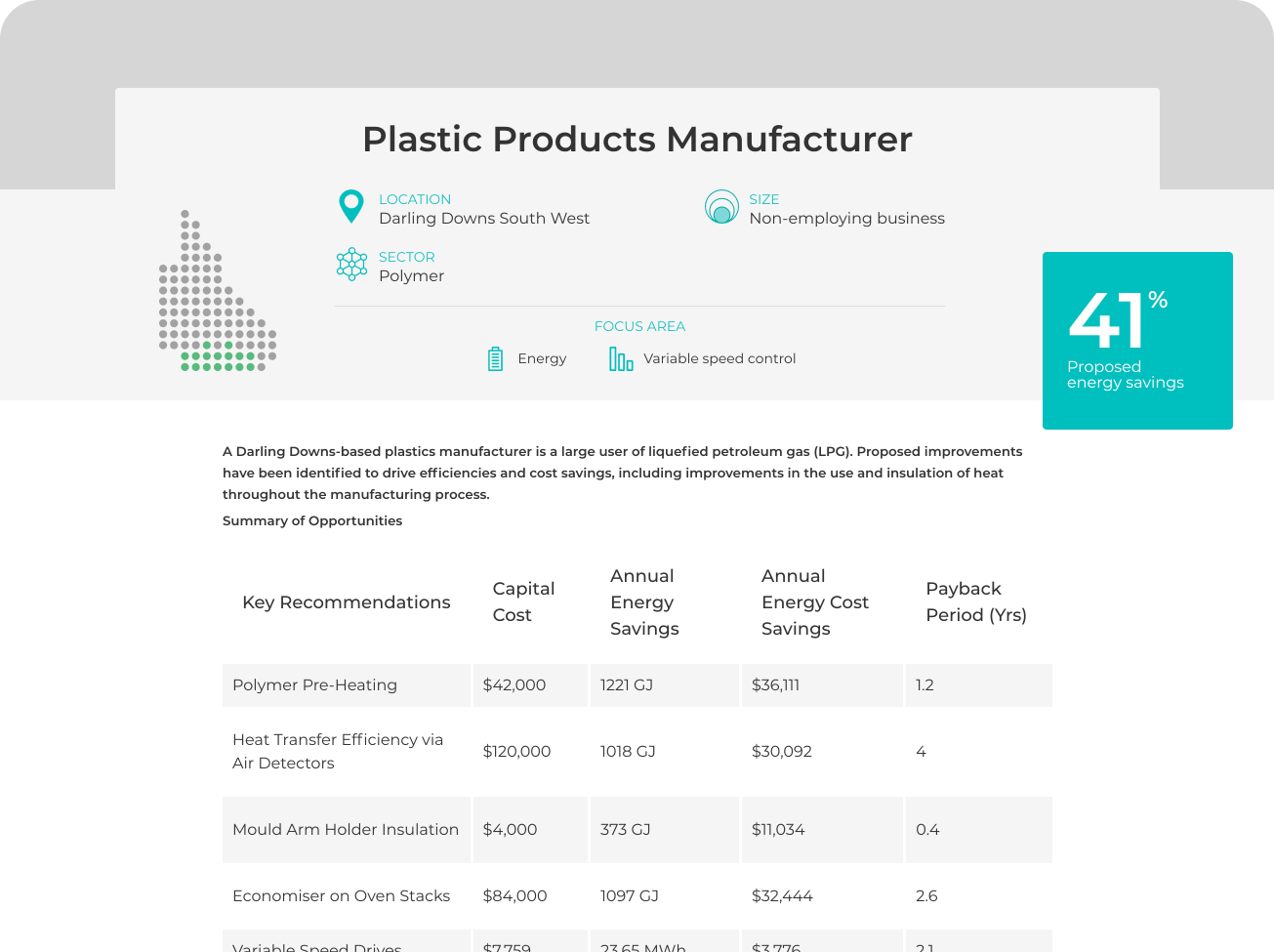 Understanding your bill
Finally, they can demystify the process of paying for energy by exploring our interactive electricity bill. 
Clicking one of the highlighted spots on the bill opens a straightforward explanation of what each section means, giving them a better understanding of what they're actually paying for each month.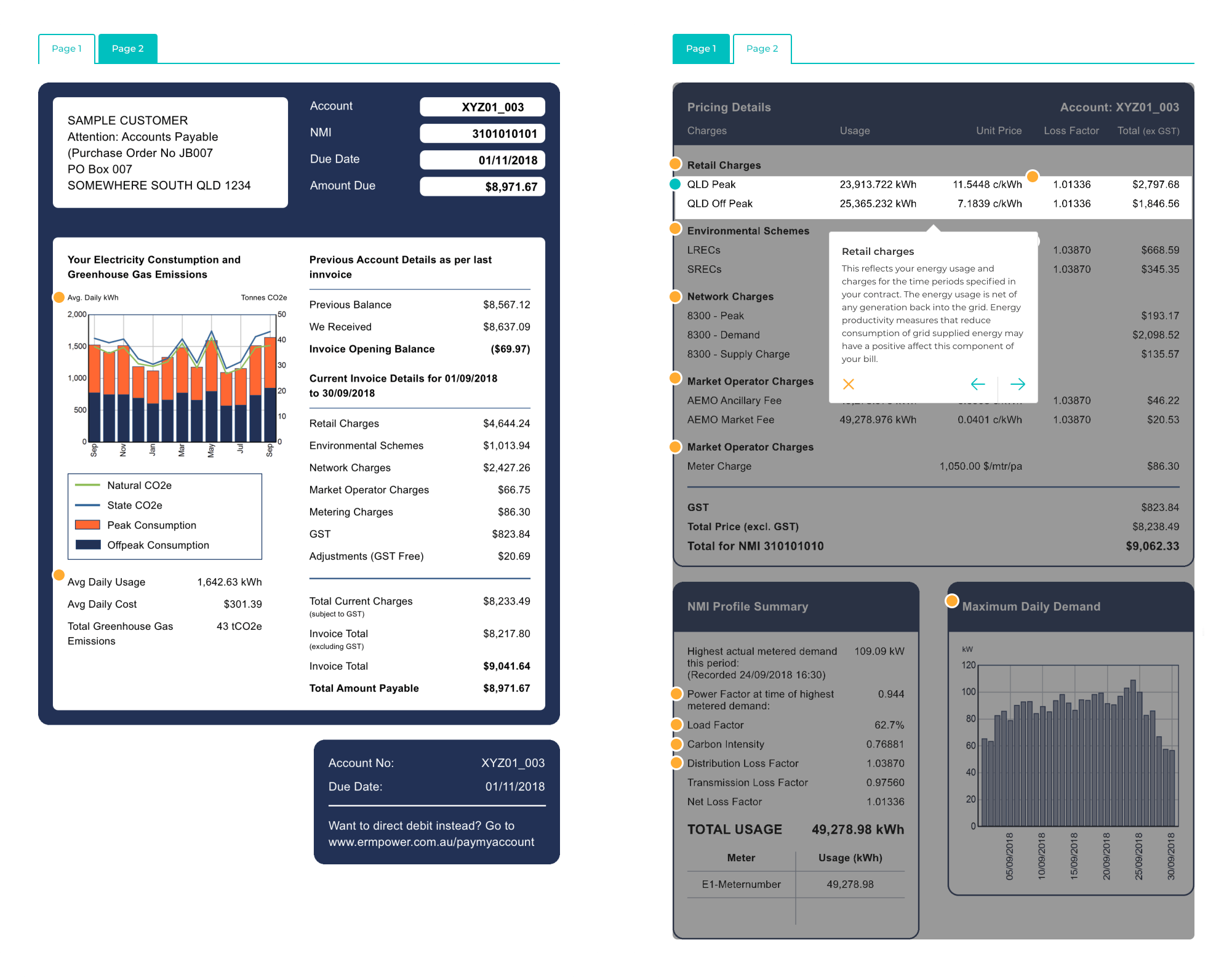 In the absence of a photo library (COVID restrictions prevented access to Queensland manufacturing sites at the time the site was developed), animated backgrounds and colourful graphics throughout the site draw the eye and reflect the themes of energy and transformation.
The Umbraco CMS
The site is built on the open source Umbraco CMS. While we handcrafted the custom Energy Management Plan and Solar Energy Calculator, the layout is widget-based, which enables Ai Group to easily add or remove content at any time to incorporate new technologies, evolving production processes and changing market conditions and regulatory requirements. 
Ai Group is now in the process of rolling out the site to their members – and we're proud to have played a role in manufacturing a sustainable future for Queensland.