A new era for the Mater Group led to a new-look website for Mater Private Hospital Townsville, a not-for-profit medical facility with a rich history of supporting the community. The nature of the organisation meant working with multiple stakeholder groups and finding a platform solution that would work with the existing systems and processes of this busy hospital.

The challenge
To coincide with a new brand identity for the Mater Group, Mater Private Hospital Townsville required a significant redesign of its website.
It was announced that the hospital, which has provided care, support and services to the North Queensland community for over 70 years, would be aligned with Mater Health, Mater Education, Mater Research and Mater Foundation in Central and South-East Queensland to form one cohesive Mater Group brand.
At the same time that this revamp of the overall Mater brand took place, Mater Private Hospital Townsville rolled out an ambitious 10-year development master plan.
As the hospital adapted and evolved, it needed a website that would reflect its new identity and support the optimal delivery of services for patients and the community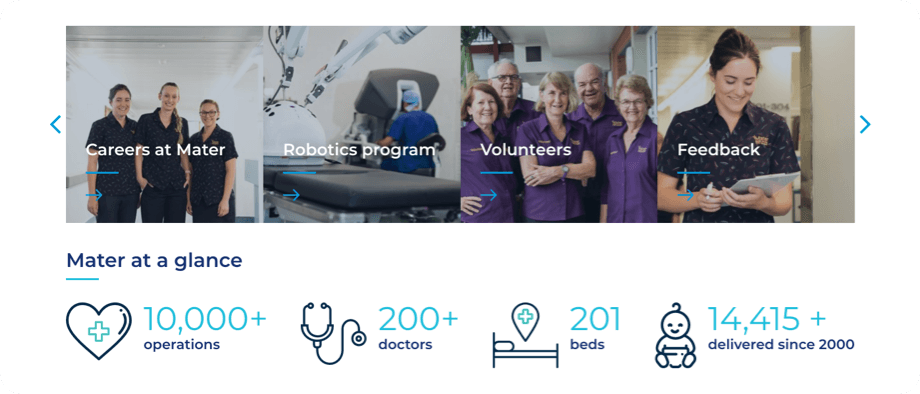 Discovery workshops
A series of stakeholder workshops with patients and staff from various departments at Mater Private Hospital Townsville were held to determine what information would be essential for the site, and how the site could best fit into the existing systems and processes of a busy hospital.
In keeping with best practices for UX design, user research — including card sorting and tree testing — was also conducted to develop a site navigation system and information hierarchy that patients and their families would find most accessible and intuitive to use.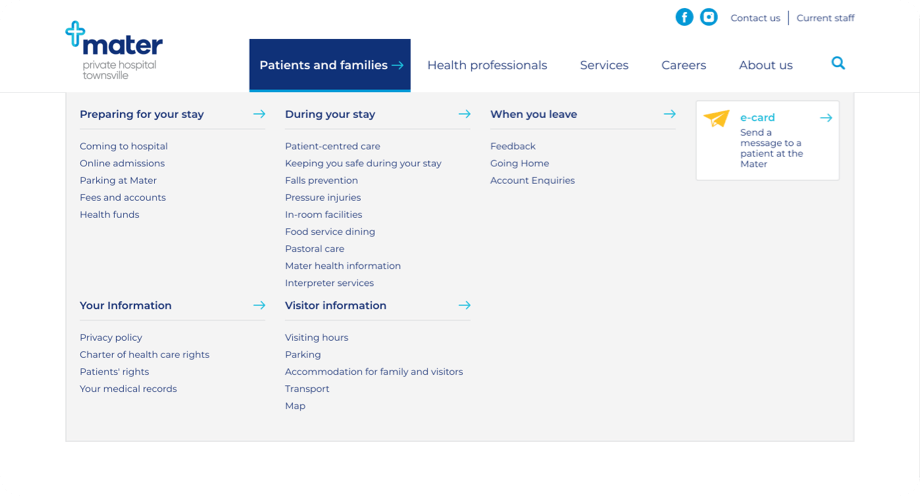 Based on the learnings from these stakeholder workshops and the feedback from user research participants, a number of features were developed for the site, including:
A searchable specialist directory featuring details of all health professionals working at the hospital
Live status updates of the wait time at the emergency department
Online pre-admissions form integrating with the hospital administration system, allowing patients to provide details required by the hospital for their admission from the comfort of their own home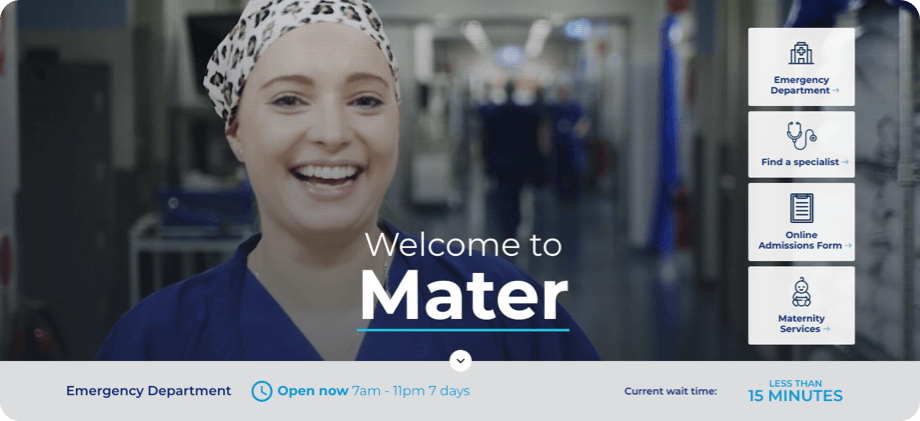 CMS integration
In keeping with the statewide alignment of the Mater brand, the Kentico content management system — already used for other Mater Group websites — was used for the redesigned site, complementing the existing IT infrastructure and allowing Mater Private Hospital Townsville to leverage existing internal systems.
The Kentico CMS also made it easy for editors to input content from various locations within the network.
As a result of these changes, the Mater Private Hospital Townsville website now serves as an integral part of the Mater Group network, providing a comprehensive portal for patients, families and staff to access all the information they need in one convenient online location.