.au direct domain names are here
What are .au direct domain names? 
If you've got a website, you've got a domain name – an address that people can use to find you without having to remember the long string of numbers and characters that make up the actual Internet Protocol (IP) address of the server that hosts your site.

If you're in Australia, your domain name is probably something like 'companyname.com.au', or 'universityname.edu.au'. The 'au' is Australia's country code, and signifies that the person or organisation using it has a connection to Australia. 
The preceding letters have a specific purpose – 'com.au' and 'net.au' are for commercial entities, 'org.au' is for not-for-profit entities', 'edu.au' is for educational institutions, 'gov.au' is for government bodies and so on. These suffixes are known as 'namespaces'.  
But .au Domain Administration Limited (auDA), the policy authority and self-regulatory body for the '.au' domain, is now introducing '.au direct' names – domain names that come directly before the .au. These direct domain names are being referred to as the '.au namespace', and are considered 'second level' names. 
So, for instance, 'companyname.au' is a .au direct namespace, as opposed to 'companyname.com.au', which is a com.au namespace. 
According to auDA, the existing namespaces will still exist, and there'll be no change to how they work – you'll still be able to use, register and renew them the same way you do now. In other words, your existing domain name will still send people to your site, provided you keep your registration up-to-date. 
But now you'll also have the ability to register a cleaner, simpler .au direct namespace that also sends people to your site. 

Why are .au direct domain names being introduced? 
The intention behind .au direct names, according to auDA, is to provide a wider choice of available names in the Australian domain, and allow users to register shorter, more memorable online names that are easier to type and display on mobile devices. 
It's the result of public consultation the organisation conducted in 2015, 2018 and 2019, and will bring Australia in line with other countries that are using direct domain names, including the United States (.us), New Zealand (.nz), Canada (.ca) and the United Kingdom (.uk). 
Who are .au direct domain names for? 
Anyone with a verifiable Australian presence – including businesses, associations and individuals – can register a .au direct name. For your presence to be verified, you must be a citizen or a permanent resident, or be an organisation registered in Australia. See the .au Licensing Rules for more details on eligibility. 
According to auDA, .au direct names are ideal for people looking to build an online presence for new ventures, creative or personal projects and campaigns, and for those who just want a striking and simple new email address. 

How do I get a .au direct domain name? 
If you have an Australian presence, you'll be able to register your .au direct domain name through an auDA accredited registrar (i.e. the likes of GoDaddy, NetRegistry, or whichever organisation your current domain name was registered through, most likely). 
The wholesale price for a .au direct domain name will be set by auDA, and will be the same price as those in the com.au, net.au, org.au, asn.au and id.au namespaces. But as with all of those namespaces, the price you pay will vary between registrars – so it could pay to shop around. 
Your .au direct name can be virtually anything. Unlike existing namespaces, which have strict rules about how a domain name must be related to an existing company name, service, good, event, activity or premises that you provide, there are few restrictions. The name just has to be available to be registered, and has to meet auDA's syntax requirements:
It must be at least two characters long. 
It can contain only letters, numbers, or hyphens, or a combination of these. 
It must start and end with a number or a letter, not a hyphen. 
It can't contain hyphens in the third and fourth position (e.g. ab–cd.com.au). 
For the first six months after .au direct names launch, a Priority Allocation Process will be in place that will give existing holders of a .au domain name the first opportunity to register for their matching .au direct domain name. You'll need to apply for Priority Status through an accredited auDA registrar. (You can also apply to register completely new names that don't exist in any other .au namespace through the Priority Allocation Process.) 
So, for instance, bestwebsiteever.au will be reserved for the first six months after .au direct names are launched for the owner of bestwebsiteever.com.au. After that, it's up for grabs.
If a cybersquatter takes a domain name that's the same as a name you've already trademarked, you'll be able to use the .au Dispute Resolution Process (auDRP) to lobby for the domain name to be cancelled or transferred to you. Conversely, you should check to see if your desired domain name is trademarked before you apply for it, to avoid a dispute being lodged against you. 
If you find yourself in such a dispute, a panel will be appointed by the auDA to referee it. The panel's decision is binding, and there is no appeal process. 
In some rare cases, more than one applicant will be eligible to apply for Priority Status for the same .au direct name – if, for instance, Applicant A already owns bestwebsiteever.com.au, and Applicant B already owns bestwebsiteever.org.au, they might both lay claim to bestwebsiteever.au. In these cases, the creation date of each applicant's domain name licence will determine who takes priority. 
You can use the Priority Status Tool on the auDA website to check if anyone else is eligible to apply for the same .au direct name as you or your organisation.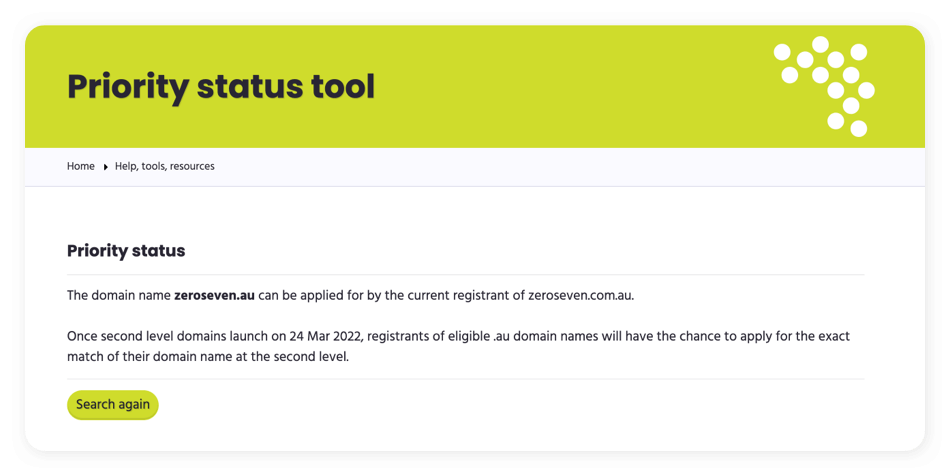 When are .au direct domain names being introduced? 
The new .au direct names will be available to be licensed through auDA accredited registrars from 24 March 2022. The six-month Priority Application Period will be open from 24 March 2022 to 20 September 2022. 
According to auDA, you should be able to begin using your .au direct domain name shortly after you apply for it. 
Some auDA accredited registrars might offer an 'expression of interest' service before the Priority Application Period opens on 24 March, but it's important to note that these services aren't endorsed by auDA, and there's no guarantee that lodging an expression of interest before that date will secure your desired domain name. 
For more information, visit auda.org.au.